Manatee Watching from Belize City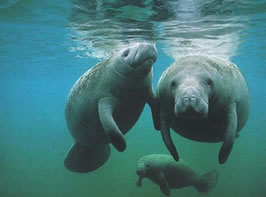 Join us at Splash Wave Tours and let us take you on a short boat ride to Belize River, home to these amazing mammals knows as Manatees. You are almost certain to see one or several of these docile and protected sea mammals also called "sea cows" swimming and frolicking in their natural habitat. These gentle mammals are believed to be the "mermaids" many sailors have talked about.
Manatee Tour Highlight
View the shy manatee as it comes up for air or just long enough for you to snap its photo. Manatees are gray or brown in color, quite wrinkled and are covered in bristly hairs. They typically live for 50-60 years. Adults grow to 9-10 feet in length and weigh in at about 1000 pounds. They are herbivores and spend much of their waking hours grazing on 50-90 pounds of sea grasses per day.
Manatee Watching for Cruise Ship Passengers
For our cruise ship passengers the tour departs from the Tourism Village in Belize City (the dock area where the cruise ship tender boats drop off their passengers). As you debark from your tender boat, please look for the Diamonds International store at Terminal 2. Walk through the store to the gate on Fort Street. At the gate, you'll be met by a representative of Splash Wave Tours. Our tours are scheduled to fit within the port time of the cruise ships arriving in Belize City. We monitor the cruise ship tender schedules and plan our tour itineraries to give you plenty of time to return back to your ship, to enjoy a local drink before departure.
For tourist who are staying in Belize City, pick are available depending on the location.
Manatee Watching Price: $50 USD per person
Includes: transportation, tour guide, snacks, and taxes