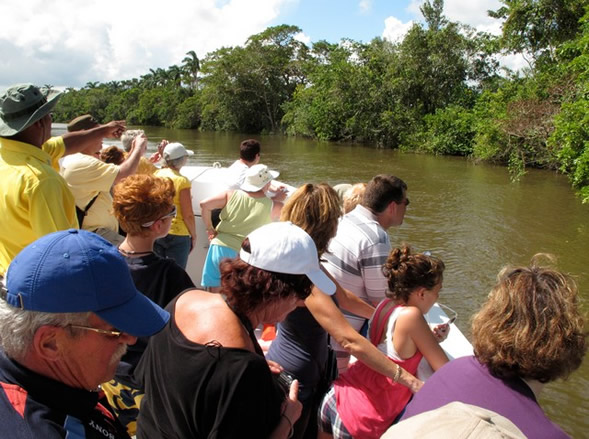 Altun Ha Mayan Ruins & River Wallace is a shore excursion for you if you'd like to visit an important Mayan ruin and see Belize's wildlife in lush tropical rainforest.
Step aboard Splash Wave boats, hang on to your hat for an exhilarating ride along Belize City's scenic coast. Then you will enter the Belize River, called Rio Wallace by the Spaniards during the Conquistador rule of the New World a was a place where Maya traders and British loggers transporting precious mahogany also used the tributary.
Keep your eyes open and your camera ready for a glimpse at the natural wildlife. You just may spot crocodiles, iguanas, howler monkeys, and even feeding manatees or dolphins during your journey.
After approximately 90 minutes on the river, your tour captain will tie up at a riverside dock for 30 to 45 minutes. Take the time to purchase a local lunch and browse the gift shop for Belize souvenirs.
We're off to Altun Ha Mayan Ruins
Then board your air-conditioned motorcoach for the 45-minute ride to Altun Ha, an ancient Mayan ceremonial center that covers five square miles. Archeologists did not know about this ancient site until 1963 when Hal Ball. Three plazas and thirteen structures mark the epicenter with the largest of the pyramids being The Temple of the Masonry Altars. This is where, in 1965, Professor David Pendergast of the Royal Ontario Museum discovered the almost ten-pound jade head of the Sun God Kinich Ahau in the tomb of the Royal Priest. Located only seven miles from the sea, Altun Ha was also a vital trade center during the Classic Period (250-900 AD) and may have had a population of about 10,000 people.
For a panoramic view of the surrounding countryside and as long as weather permits, climb the stone steps at on of the three of the main temples. The view is just awesome.
After exploring the Mayan site, board your air-conditioned coach, sit back and relax during your 45-minute ride back to the pier and your return to your "Fun Ship."
For a truly interesting insight into Belize's ancient past and the natural wonders of the country, book the Altun Ha Mayan Site & River Wallace now. It's an exciting way to add fun ashore to your fun afloat.
Altun Ha Ruins and River Wallace Tour Price:
$85 USD per person or $95 USD Per person w/ lunch
Includes: transportation, tour guide, entrance to the site, and taxes