Hol Chan Shark and Ray Alley brief history
Hol Chan Marine Reserve is located off the southern tip of Ambergris Caye. Mayan for "little channel", Hol Chan Marine Reserve is doubtfully one of the most popular dive sites in the Caribbean, and indeed in Belize. The entire reserve focuses on a cut through the reef (called a quebrada) which is little more than 25 yards wide and 30 feet deep about 4 miles southeast of San Pedro. Hol Chan has burgeoned into a unique refuge, with vigorous coral formations and a richness of marine life. Realizing the importance of the coral reef community off Ambergris Caye, Belize, the Government of Belize established the Hol Chan Marine Reserve on May 2, 1987. Shark Ray Alley was officially declared Zone "D" of the Hol Chan Marine Reserve on August 31st, 1999.

Shark Ray Alley Tour Highlight
We will then head to the neighboring Shark Ray Alley, where you will snorkel or dive and be able to get up close and personal with ecstatic Nurse Sharks and Southern Sting Rays. When you arrive, you will see the surface often boiling with rolling sharks and sting ray as they compete for the scraps. These creatures have a great tolerance for divers and snorkelers. The rays, which have a 'wing-span' of two to four feet, swim directly towards the divers, mouths often turned up hoping for a hand held tad bit to be placed near their mouths.The docile Nurse Sharks average four to six feet in length and can be a bit more aggressive than the sting rays. Here, you will feel the excitement and novelty of swimming with large numbers of nurse sharks and sting rays.
Shark Ray Alley for Cruise Ship Passengers
For our cruise ship passengers the tour departs from the Tourism Village in Belize City (the dock area where the cruise ship tender boats drop off their passengers). As you debark from your tender boat, please look for the Diamonds International store at Terminal 2. Walk through the store to the gate on Fort Street. At the gate, you'll be met by a representative of Splash Wave Tours. Our tours are scheduled to fit within the port time of the cruise ships arriving in Belize City. We monitor the cruise ship tender schedules and plan our tour itineraries to give you plenty of time to return back to your ship, to enjoy a local drink before departure.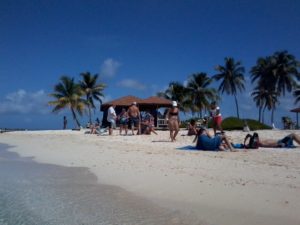 For tourist who are staying in Belize City, pick are available depending on the location.
Shark Ray Alley Price:
$89USD per person – Lunch not included
$99USD per person – Lunch included
Snorkeling & $100 Divers
Includes: transportation, tour guide, gears, and taxes