Goff's Caye from Belize City
Join us at Splash Wave Tours and let us take you to Goff's Caye, Belize. Discover with us the unspoiled beauty, white sand beach and aquamarine waters surrounding this small Island Paradise. Escape to this tropical caye for a day of sun, sand, snorkeling, and full with family fun.
Goff's caye Highlights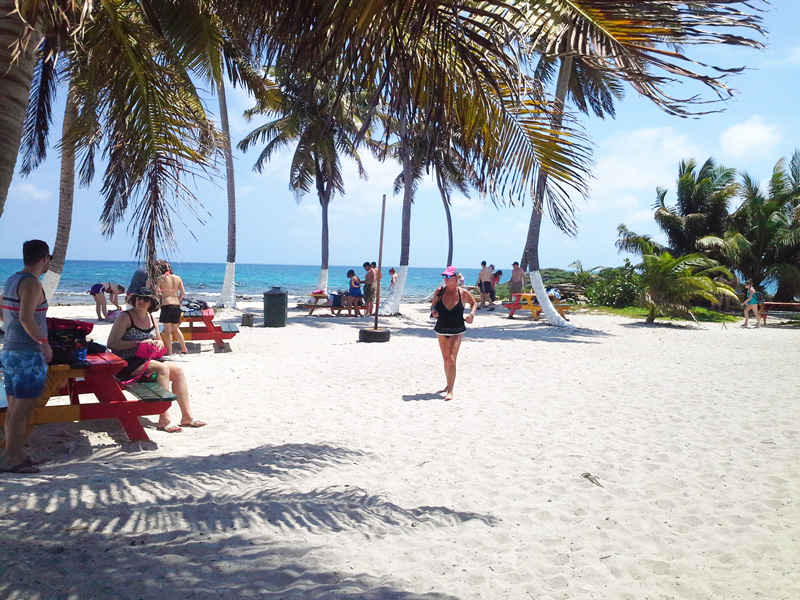 This gorgeous and uninhabited island is only 30 minutes boat ride away from Belize City. Just perfect for cruise ship passengers and tourist staying in Belize City. It's a popular destination because of it's powdery white sandy beach and the pristine water that surrounds it. It is located right on the edge of the barrier reef and has an abundant variety of colorful tropical fishes and other marine life such as corals, sea urchins, conch, lobsters and stingrays, just to name a few. All this makes a remarkable snorkeling experiences.
This is truly the ultimate Belize Island Experience, this small Atoll symbolize the true essence of Belize. The unspoiled sandy beaches offers unequaled rustic charm. Offers all of the necessities without the commerciality or the crowds.
Goff's Caye For Cruise Ship Passengers
For our cruise ship passengers the tour departs from the Tourism Village in Belize City (the dock area where the cruise ship tender boats drop off their passengers). As you debark from your tender boat, please look for the Diamonds International store at Terminal 2. Walk through the store to the gate on Fort Street. At the gate, you'll be met by a representative of Splash Wave Tours. Our tours are scheduled to fit within the port time of the cruise ships arriving in Belize City. We monitor the cruise ship tender schedules and plan our tour itineraries to give you plenty of time to return back to your ship, to enjoy a local drink before departure.
For tourist who are staying in Belize City, pick are available depending on the location.
Goff's Caye Price: $45 USD per person
Goff's Caye Price: $55 USD per person – Lunch included
Includes: transportation, tour guide, gears, entrance to the site, and taxes